Coil cable, usually known as spiral cable, spring cable, curly cable, is a retractable spiral form cable. Coil cable becomes more and more popular due to its excellent performance as connection for application with movement requirement under limit space.
Coiled cable, Spiral cable, Spring cable, Curly cable
What is the function of coil cable?
Coil cable has a very good stability. It plays a very important role in the control system, and also brings great convenience to the operation of the control system, greatly increase the stability and efficiency of the work. Usually the coil cables are applied for machine tools, and assembly line in the industry control system. Sometimes it is also adopted by scientists and inventors to the creation of the new robot manufacture due to its great performance for the robot control connection. To some extent, it accelerates the invention and creation of many new types of machines.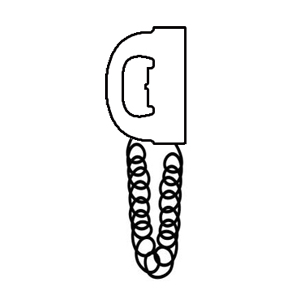 Why telephone cable is a COIL cable?
The telephone cable is coiled, which makes it easy to extend, much like a spring. By the coil-like figure, it seems very short length but still be able to be pulled for a much long distance. The operation radius is increased. With it, people can move more freely when they answer the phone. Not only telephone cable, but also POS machine in the shopping mall, is equipped with coil cable. The coil cable is so much flexible and retractable. It realizes the fact that, it is convenient for people to answer the phone or operate the device from a longer distance, on the other hand, the cable will not messed up when you come closer to the telephone or device.
When should I use coil cable?
Various industries, for examples, machinery- , plant- or tool-making industries, are working particularly with movement requirement and under limit space condition. Due to these factors, the connect cable has to perform the flexibility to extremely high standards. Moreover, abrasion, oil and gas resistance are basic requirement in industry application. By that, coil cable is the preferred option.
What are the procedures of making coil cable?
There are some steps to take of making coil cable, procedures as following.
Recognize the size and specification of straight cable;
Select the roll bar according to the cable size;
Coil the cable around the roll bar;
High temperature heating process;
Reverse the coils after heating.
What should people pay attention to for coil cable manufacture?
Some key points must be noticed so as to avoid manufacture failure.
Different type of cable has its unique heating period;
Carefully observe the surface of the interior side of the coil after heat;
Verify the resilience force after finished.
Check whether the cable surface is printed with the certificate content as required.